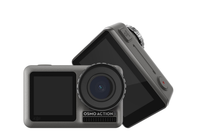 Dual Screen
Show off your love for travel and adventure to the whole world by either recording your experiences from behind a lens or by being the star of your vlog. With a dual-screen setup, this action camera lets you frame yourself effortlessly for a better self-recording experience. The front screen offers a real-time view of composition while recording videos.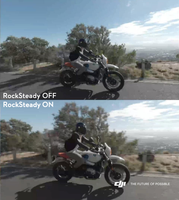 RockSteady Stabilization
The RockSteady technology combines Electronic Image Stabilization (EIS) with complex algorithms to deliver stable and distortion-free videos so you can record jaw-dropping and action-packed footage of a go-karting race clearly on this camera. The videos are captured in 4K resolution, making them sharp, clear, and accurately exposed.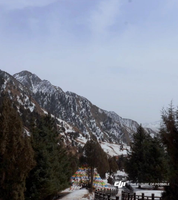 4K HDR Video
While shooting scenes with high contrast, the HDR video mode delivers natural transitions between light and dark areas so you can capture every subject with the realism of 4K.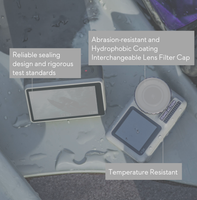 Sturdy Design
The Osmo Action is waterproof up to a depth of 11 m. Every image captured on this device will be clear and crisp as the lens features three abrasion-resistant aspherical layers and a lens filter cap, with anti-fingerprint coating, which is capable of repelling oil, water, dirt, and other small particles. The batteries can even function effectively at temperatures as low as -10°C.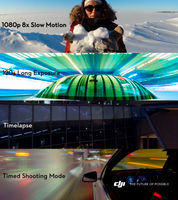 Shooting Functions
This camera offers diverse functions such as 1080p 8x Slow Motion, custom exposure settings, Timelapse, and Timed Shooting Mode so you can capture every detail of every moment clearly.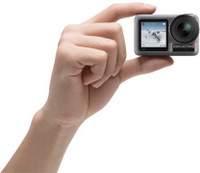 SnapShot
This function lets you capture stunning shots in the blink of an eye by just pressing the shutter button once.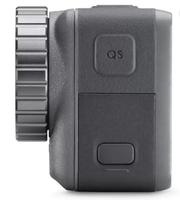 Custom Mode and QS Button
With the Quick Switch (QS) button, you can switch between different shooting modes instantaneously. The Custom Mode of this camera allows you to store, list, and select detailed shooting settings that can be saved as a mode for future selection.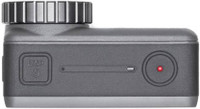 Sleep Mode
With a single press of the shutter button, you can quickly wake this camera at any time and start shooting videos. This mode helps reduce power consumption.
Switching Screens
Perfect for vlogging or creating your own action videos, this camera lets you instantly flip between the front and back screen by just pressing the QS button or double tapping the back screen with two fingers. This function is ideal for use when you have to switch the camera view to another subject and then back to yourself.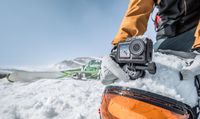 Shooting Horizontally or Vertically
Capture videos either horizontally or vertically according to your preference. When you shoot horizontally, the videos or photos can be captured with a wide-angle view. Shooting vertically, your videos and photos will feature the most popular aspect ratio, so you can easily send these amazing snaps to your smartphone or share them on various social media platforms.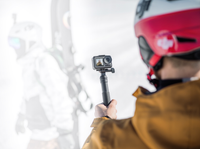 Voice Control
This feature allows you to capture a picture or control the essential functions of this camera using your voice.
DJI Mimo App
By connecting to the DJI Mimo app, you can control the camera, record videos in third-person view, and also edit the footage.