Gionee A1 Lite detailed review
If you have an affinity for selfie phones or phones with big batteries then you must have heard of Gionee. The company has been pushing these two aspects in smartphones with a lot more enthusiasm than its competition. This year we have already seen the Gionee A1 and A1 Plus, which were launched with the same philosophy, but didn't fulfill it completely. Now, the company has launched an all new phone called the A1 Lite that is smaller than either of two previous devices. 
Priced at Rs 14,999, the phone tries to create a space for itself in the very competitive sub-15k smartphone segment. Like its brothers, the A1 and the A1 Plus, the A1 Lite is also aimed at selfie lovers and features a 20MP front facing camera. Complementing the 'Selfie and battery' tag line of the company, you also get a 4000mAH battery on the device. Is it worth the price? Well I have been using the Gionee A1 Lite for a few days and these are my thoughts on the phone. 
20MP front facing selfies

According to Gionee, the USP of the A1 Lite is the 20MP front facing camera. On paper, it seems to have the same setup Gionee used on the A1 Plus, but image quality is lower. Images look good only under ample lighting conditions. The camera captures a decent amount details, and dynamic range is average. Moreover, the soft focus issue we saw on previous Gionee phones still persists. That is not something camera enthusiasts would like, but at the same time your selfies have lesser blemishes and a smoother skin tones, which many tend to like, although it may be overdone here.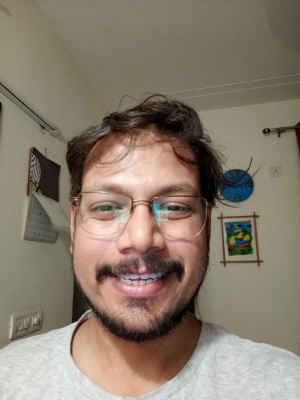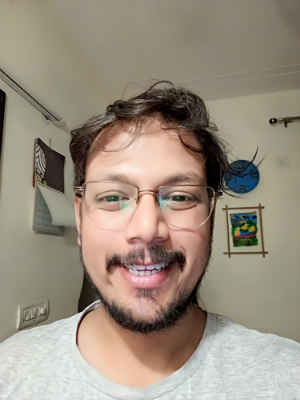 Normal Mode (Left), Beauty Mode (Right)
Selfies taken under dim lights or low light conditions are usable most of the times, but visible noise is present in images. The camera is also accompanied by a front facing flash, it will only blind you most of the times, instead of doing justice to images or improving selfies. In addition to the normal selfie mode, you can use the beauty mode and make yourself looks slimmer and fairer as well, if that is something you like to do. 
The same 13MP rear camera

Like the 20MP front shooter, the 13MP rear camera is again decent. It shares DNA with the rear camera of the Gionee A1 I reviewed earlier and hence produces good quality images most of the times. It captures good amount details and has almost true-to-source colour reproduction in ample lighting conditions. The dynamic range is decent too, but the soft focus does persist, alhtough it is not as prevalent as it is on the front camera. Besides that, the main issue with the camera is its slow. It is slow to focus, slow in changing modes and the phone even takes a couple of seconds to launch the camera app.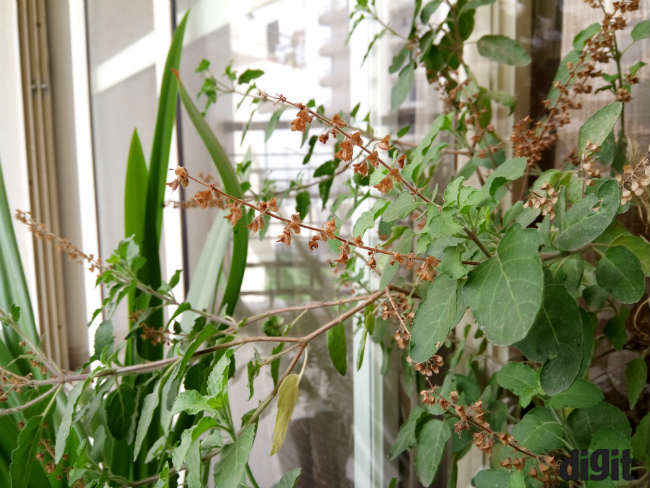 This will lead you to miss out on fast action shots and blurry images if you don't have a steady hand. Tap to focus is also inconsistent at times and if you are not very careful, your subject in your image may look out of focus.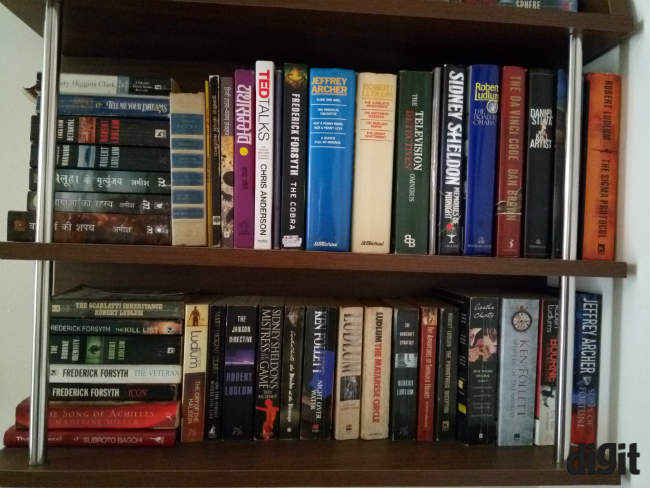 Low light image quality is a hit or miss, as sometimes the camera focuses right and sometimes you end slightly blurry shots, which would look good on social media, but won't look good to those with trained eyes. Auto HDR on the camera also works inconsistently and goes for a toss if you are shooting in overcast conditions.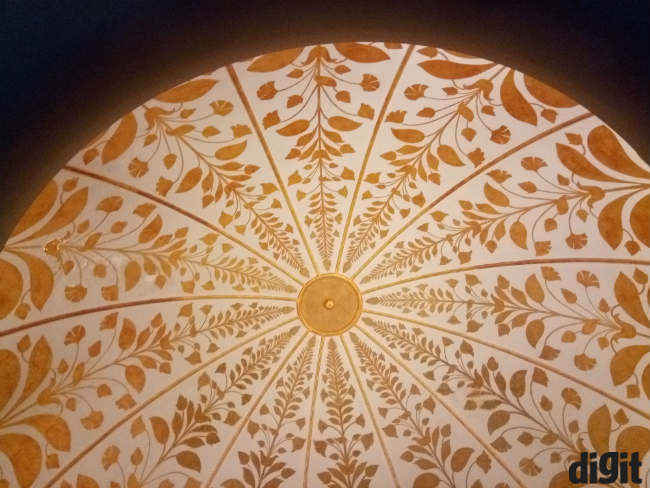 Build and Design: Built like a tank

While the camera is rather unreliable at times, I have no complaints with the build quality of the device. The Gionee A1 Lite is ergonomic and feels well built. I am not a big fan of the design choices though. I believe the aim was to make it less unattractive compared to the A1, which it achieves.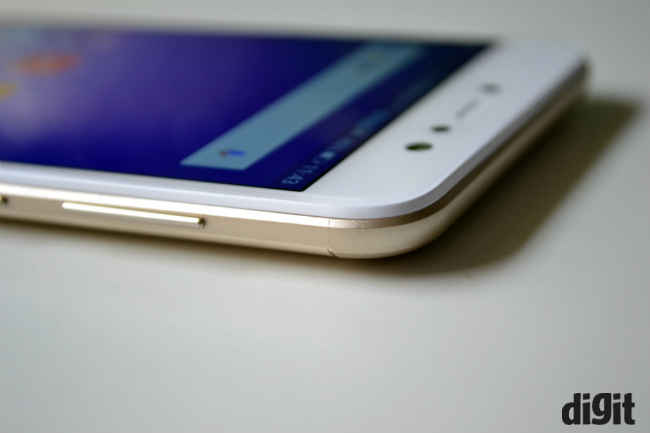 The position of the fingerprint scanner, power button and volume rocker is just right and all three work quite well. The slightly curved display, is somewhat raised above the metal frame, and feels a little out of place with the rounded edges. Besides that, the rear speaker is loud enough and I am happy to report that the phone does come with a dedicated microSD card slot, along with two 4G VoLTE capable SIM slots. What I don't like however, is the fact that Gionee still misses out on a USB Type-C port for charging and data, in 2017.
Display: 720p diasplay may not cut it

Talking about outdated hardware, I am also not very happy about the fact that at 15K, the Gionee A1 Lite does not have a 1080p display. The colour representation is on the cooler side by default, but you can shift to a warmer tone from the settings. Besides that, the viewing angles are decent and at 590 lux, brightness is also good enough, but screen resolution leaves me wanting. Watching Man In The High Castle on Amazon Prime, you can see distinct differences between this and a Redmi Note 4 with its 1080p panel. Moreover, lower screen resolution doesn't help the phone offer better battery life than its peers, about which I'll talk about a little later in this review.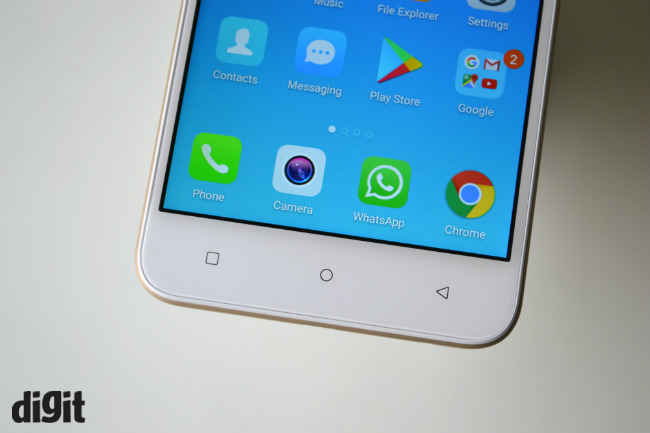 UI gives us major privacy concerns

Now, if you have seen Gionee phones earlier or have read one of our previous reviews, you would know that the UI on the phone is rather colourful and tries to imitate iOS in functionality. All the apps are neatly aligned in a grid on the various home screens and the quick settings menu is available via a swipe from the bottom. 
While it is usable or rather, you will eventually get used to it, the UI on the Gionee A1 Lite has the same privacy concerns I pointed out on the A1 Plus. As soon as you sign into the phone, you are greeted with "Carefree Launcher" asking for permissions for your Contacts, Mail Info, phone calls and send messages. Now, I get that most phone makers have launchers on top of Android, but shouldn't these launchers be baked in within the UI? You get similar permission pop-ups when you open other native apps, like contacts or music. Moreover, apps like Gallery require an internet connection to work, which is again somewhat annoying.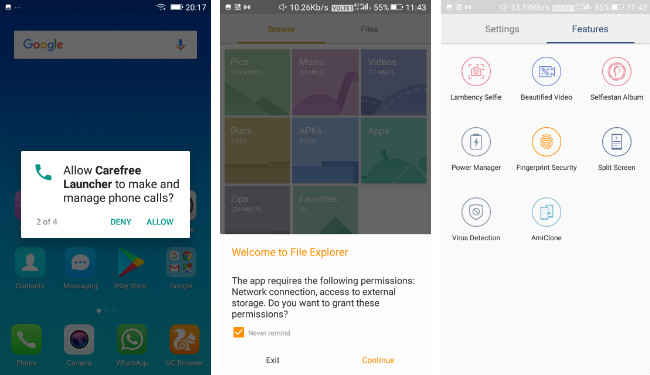 However, if these instances don't raise privacy flags for you or you don't really care for privacy then you should know that the UI works well most of the times. At the same time, it has the same drawbacks and extra settings we saw on the previous Gionee A1 Plus and Gionee A1. The good thing is, unlike most sub-15K devices, this is running on Android 7.0 Nougat.
Performance: Slow and hot

As I mentioned earlier, the camera UI is a little sluggish and I think the biggest culprit here is the MediaTek 6753, which in 2017 can be considered ancient. Gionee has coupled it with 3GB of RAM to provide better performance, but the short story is, it hasn't worked. With more than 10 apps open, the phone starts to lag and stutter, even when you are just browsing the web. The problem becomes even more prevalent when you open up a game or two. I tried games like Vainglory and Injustice 2 on the phone and the phone consistently dropped frames and stuttered.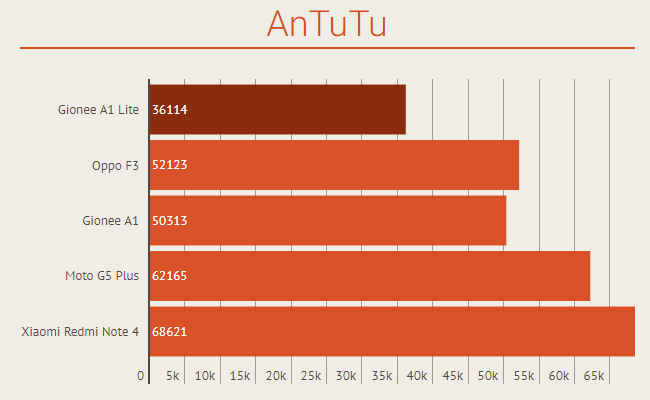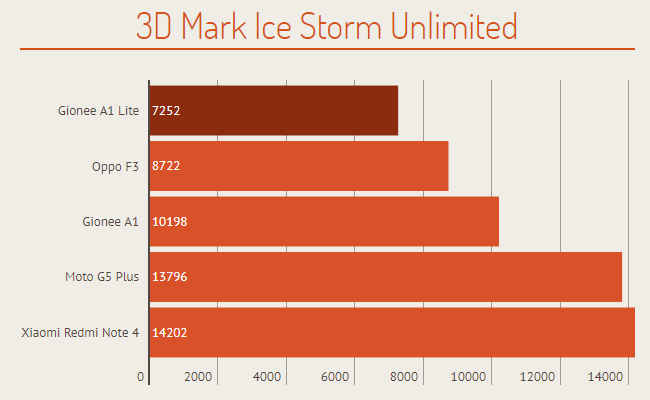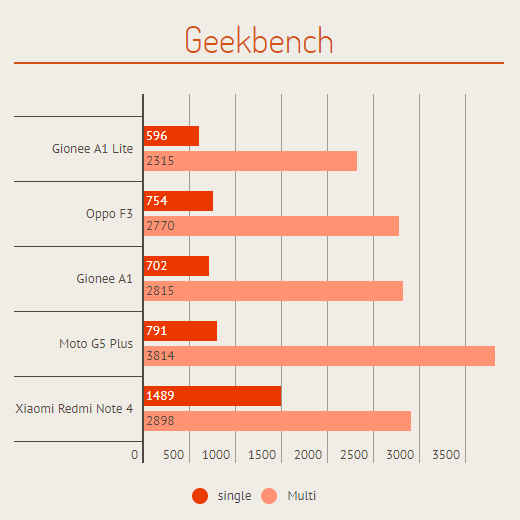 However, I feel a much bigger issue is that the phone starts to get warm as soon as you start using it. It doesn't matter what you are using it for. Calling, downloading or just watching videos, the Gionee A1 Lite tends to be warm always. Gaming on the phone or using the camera raises the temperature even more, up to about 42 degree celsius, making the metal back rather uncomfortable to hold.
Battery: Lasts a day, just.

Heat is the enemy of battery life and performance and hence the 4000mAh battery is unable to live up to our expectations. In our test PCMark battery test, the A1 Lite lasted for just six hours and 45 minutes, which is quite low, compared to what most of its competitors achieve. That said, the phone will last for at least a full work day for most users, but at the same time it takes more than an hour and a half charge completely.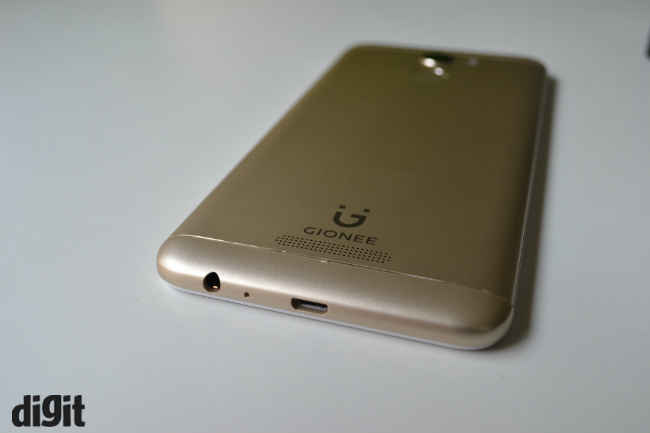 Yay or nay?

Gionee has stuck to its belief of good selfies and better battery life, and to an extent that has worked for them. However, as a wholesome experience neither of the A1 series devices have established their position. The Gionee A1 was decent, the Gionee A1 Plus was average and this, the A1 Lite finds itself somewhere in between. It's just yet another budget smartphone, and it offers nothing for us to recommend it. It does not have the performance to stand against its peers, and its hardware is just not good enough. The only silver lining for the phone are the two cameras, but those alone can't make it a good enough proposition. So, who is the A1 Lite for? Well, it's meant for people buying selfie-centric devices offline. But even to them, we'd recommend the myriad other options available, both online and offline.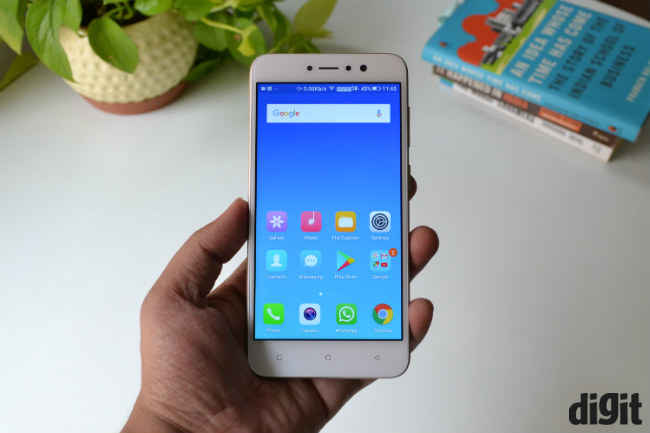 How it compares

The Gionee A1 Lite faces tough competition, as the phone finds itself among the likes of Xiaomi Redmi Note 4, Moto G5 Plus, Coolpad Cool 1, Oppo's F3 and Vivo's V5. If you want a selfie-centric phone, the Oppo F3 does a better job and is slightly faster. On the other hand, for online buyers, the Moto G5 Plus is currently the best option in this price segment. I don't think the Gionee A1 Lite has anything over either of these devices.